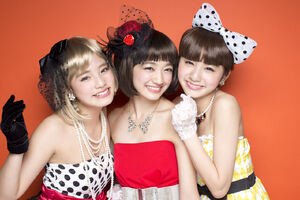 MThree, or M3 or Mスリー, is a subunit formed under Fairies in 2013. The members are Miki Shimomura, Miria Fujita, and Mahiro Hayashida. The group name is derived from the first letter of each of their first names.
Members:
Hayashida Mahiro (林田真尋)
Shimomura Miki (下村実生)
Former Member:
Fujita Miria (藤田みりあ)
MThree debuted with their single "Yumemiru Dancing Doll." The single reached #7 on the daily chart on the day of release and #6 on the second day.
The tracklist includes:
Yumemiru Dancing Doll
Glory Days
Yumemiru Dancing Doll (instrumental)
Glory Days (instrumental)
According to TokyoHive,
'On March 26th, Fairies sub-unit M Three held a release event for their debut single, "Yumemiru Dancing Doll".
Members Shimomura Miki, Fujita Miria, and Hayashida Mahiro will all be entering their third year of junior high school starting in April. The girls declared that they will continue their activities as 'Hana no Chusan Trio', taking over the name that previously belonged to Mori Masako, Sakurada Junko, and Yamaguchi Momoe. Shimomura commented, "I heard that they were really popular during my dad and mom's generation, so we want to do our best not to lose!"
M Three is made up of Fairies' youngest members. Fujita stated, "Until now, we relied on the older members, so I'm nervous that it's just junior high schoolers." The girls will not only express their coolness, but also their cuteness. "I'm used to dancing cool, but it was difficult to express it cutely," Fujita continued. Then Hayashida gave the appeal of the group saying, "I want people to look at each of our personalities!"
The girls performed their debut single wearing a 1950s style dress, wig, as well as color contacts. About 2,000 people attended the event.'
[2013.03.27] Yumemiru Dancing Doll (夢見るダンシングドール)
[2014.07.30] Your Love
Community content is available under
CC-BY-SA
unless otherwise noted.